Dear Reader, it has been a while since Day Sixteen, but things have been so hectic I will have to rely on my recollections to convey an accurate account. At first light all was quiet in East Cove, Escapade riding gently on her anchor. With the ladies enjoying a lie in, Robert and I made the boat ready and quietly slipped out into the Murray Passage at slackwater around 8am and crossed over to Erith Island. The sandy beach falls steeply into deep water, so we were able to bring Escapade very close to the shore. After checking out the famous hut perched on a slope overlooking the bay, we said goodbye to the Kent Group and charted a course north west towards the Hogan Group.
It was a stunning morning, but sadly not a breath of wind, and we soon had the diesel sail going at around 2,500 revs, pushing us along at around 7 knots. The sea was glassy, and the hazy atmosphere prevented much of a view. Deal soon disappeared with no sign of the Hogan Group ahead. I could make out what I first thought was an island to the south, but as it gradually came closer it turned out to be an oil rig under tow, something one doesn't see every day.
We finally made the Hogan Group at around 11am. After receiving a most hospitable welcome by the resident seal colony, we slipped into a sheltered bay on the north side of Hogan Island and dropped a line over the side. In a respectable amount of time, a fairly large wrass was hauled aboard and immediately gutted and filleted.  At least there will be fresh fish for dinner, we are getting fairly low on fresh supplies.
Bass Strait remained calm all afternoon, the water an eerie silver colour beneath a heavy grey sky. We motored across the shipping channel and rounded Wilsons Promontory, the summit of Mount Wilson obscured by fat clouds. By early evening we had passed Rodondo Island and the Forty Foot Rocks and were fast approaching the seal colony on the Anser Island Group, where we were to receive another hearty welcome.
The light was fading as we passed Cleft Island, a granite monolith resembling a giant birds skull. Shelling left scars on the rocks which are the result of Naval target practice during World War 2.  Fortunately it is now a National Park, although that didn't protect Wilsons Prom from Park Management when a controlled burn got away a couple of years ago and virtually raised the entire promontory. The calm conditions gave Robert the opportunity to helm Escapade through two narrow channels in the Glennnie Group, beneath spectacular granite tors.
Seals on the rocks looked up in surprise at our passing, I guess they don't see yachts under sail terribly often in these waters.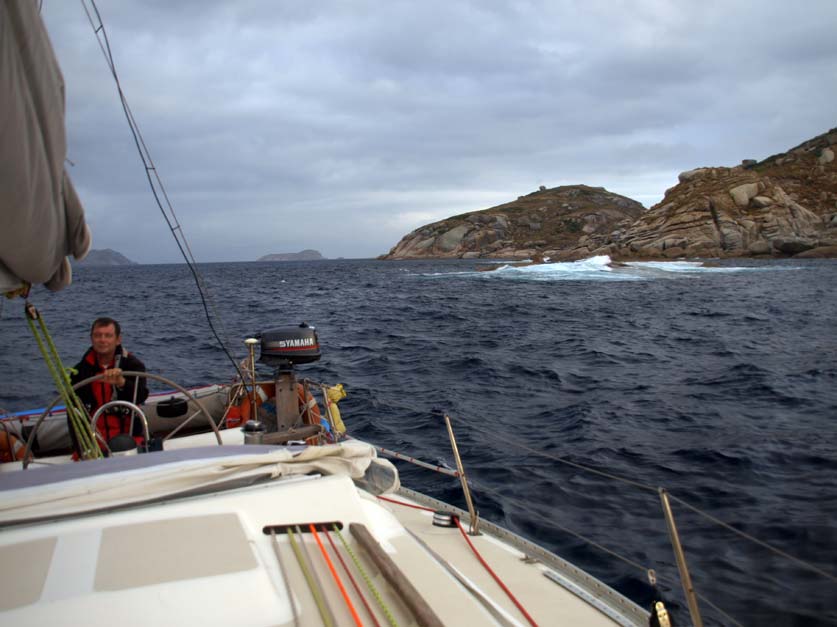 As the granite receded I went below decks to cook up the Wrass, which I crumbed in Panko and served with stir fried greens and oyster sauce. Robert and Felicity would take the first watch on the long leg back to Port Phillip, from 10 until 3am, then Amy and I would take the graveyard shift. At 10 I snuggled into the Quarterberth and fell into a deep sleep.
Felicity awoke me at 3 am. The wind had come up during the night, and there was now around a two meter sea running. We were on a run in a good following sea, and were making good progress. Aimee and I swapped the helm every hour, and it seemed like no time before the sun was up and Cape Schank was on our starboard beam.
As we came through the Port Phillip Heads on "four fingers east" we lowered the spinnaker pole, and gibed to a course that would take us to the Portsea pier, where I was to meet Jane and end an amazing adventure. I could quote Robert Louis Stevenson's Requiem "Home is the sailor – home from the sea", but it will be many years before I will be able to call myself a sailor, I am but a student of the sea.