If there were a restaurant in my heaven it would be Fino. I have been fortunate to have eaten well all my days.  A Cantonese step mother ensured my juvenile palate became adventurous early, and teenage holidays spent working in the kitchen at Tatra Inn on Mt Buffalo opened a door to unimaginable Eastern European delights like zuppe pavese, zabaglione, and good old apple strudel. I was lucky to be at Neddy's in Adelaide in the 70's when Cheong Liew was working his magic blending east and west before anyone had even thought about it.  In 1979 I was at the fabulous Maxims in Paris, when the pompous maitre'd admonished my wealthy meal ticket for being so crass as to order a whisky for an aperitif. Come to think of it, the maitre'd had it right, and the alternative offered was kir, a blend of blackcurrant and champagne, which was not all bad on a nineteen year old's palette. The food was as one would expect from what was at that time one of Paris's finest.
I was once a guest of Alitalia on a 14 day whirlwind tour of Italy in the mid 90's, my factotum a young Italian lass who carried an unlimited expense account for wining and dining, courtesy of her employer, the then head of the Australian Tourism Commission in Rome, who loved all things Italian and gastronomic and was keen to spread the love. The best restaurants across Italy were given a severe hammering, so much that when I appeared at the arrival hall in Melbourne my darling wife Jane mistook me for the Michelin Man. I have eaten food, and cooked alongside some of the best chefs in the United States, including a live fire cook off with Brad Farmerie of New Yorks chic Public and Andy Ricker of Pok Pok in Portland. But if I were given a choice of where I would like to go for a good nosh, it would be Fino.
I first met David Swain whilst cooking at a friend's 40th birthday over a decade ago in Jamieson. A quiet, unassuming chap who presented himself at service time at my trailer, rolled his sleeves up and helped me feed the crowd. Shortly afterwards I rocked up to the restaurant he was cooking at in Ackland Street St Kilda. The place was forced modern-arty, the atmosphere uncomfortable, and David was deeply unhappy there, but nonetheless the duck he turned out was sublime. When I queried him about what unholy thing he had done to make it taste so good, with typical humility he said, "I just dip in in and out of boiling water twenty times before roasting it". Well, I went home and tried that, and whilst it was good, it was nowhere near as good as Davids!
When next we spoke it was at Willunga, in the kitchen, shortly after David had taken the plunge and with business partner Sharon Romeo opened Fino, their very own restaurant. The kitchen was small, and I immediately noticed the wire racks, beneath which glowed mallee root charcoal. Real fire, real food. David explained how he wanted to pare away the bullshit associated with haute cuisine and focus on quality regional produce that is not interfered with in the cooking process. My mind went to some quip about Jesuits, Boys and Christian Brothers, but I decided the analogy was inappropriate at the time. After a ten course degustation that finished with a sublime bottle of Drew Noon's Maclaren Vale Shiraz, I left weak in the knees wondering how I could organise my next trip to Willunga. After all, it is not exactly anywhere near Jamieson. But there was nowhere near Jamieson that could produce squid stuffed with spelt and peppers like David.
I guess a great meal has a lot to do with who you share it with, and last weekend I would be hard pressed to find better. One of my dearest oldest friends, confidante, and godmother to my children Liz Waldron, and the legendary Arthur Milton, Concert Pianist, Lawyer, Real Estate Agent, raconteur and Adelaide's most celebrated doorman. In the 1970's and 80's every nightclub in Adelaide was clamoring to get Arthur, but he was picky, he only worked the best. Behind an eternally full glass of coca cola and a cloudy haze of Benson and Hedges smoke, the bow-tied Arthur would politely decide who would enter, and who would not. And his manners were always impeccable. When Liz asked him if he still liked Coke, he answered simply and emphatically, "I love it!"
We were ushered to a table in the middle of the small restaurant, whose front of house is nothing short of understatement. Plain white walls, low arches, a tiled floor and simple bentwood chairs. But it just feels right, you sense there is magic afoot, or at least I do.
There is no point in ordering off the menu at Fino. Better to ask them to bring you whatever, because it is all stunning. Yummy yum yum! The sommellier wasted no time in ensuring there was water on the table, and leaving it entirely to her to match wines with our meals, she poured two delightful glasses of crisp chilled Portugese Dona Paterna Alvarinho 2010. Arthur of course had a coke. "I drink gallons of the stuff" he told us.
Rather than taking our order, we were simply asked if there anything any of us didn't like to eat. Arthur quixotically responded, "I love Garfish". From the look on .Sharon's face it was clear to her we were dining with no ordinary man, as it turned out Garfish was on the menu. Coincidence, or…. Spooky!
Some deliciously elastic Ciabatta appeared on the table with  locally pressed Diana Olive Oil, followed by Tuna with Fresh Peas and wilted cos in a salty dill dressing. The Tuna was almost sashimi, just lightly white from a gentle marination in lemon acid on the outside, with just a hint of dill, it married superbly with the Alvarinho.
The next dish was sugar cured cold smoked muscovy duck, garnished with thinly sliced melon radish that looked like something out of Alice in Wonderland, with red cabbage, a little mustard cress for heat, pomegranate seeds, and to lead the palette along, again a touch of dill.
Arthur had to dash off and grab a packet of Benson and Hedges from the hotel next door between courses, he was clearly suffering nicotine withdrawals and had the wild look of a hunted man.
A few minutes and a couple of B&H later he returns just in time, as the lightly sautéed garfish with local green beans, almonds, lemons and dill arrives. Arthur is happy, and orders another coke to pair with the fish. The whole degustation concept agrees with Arthur, plenty of opportunity to whip outside and knock over a couple of durries.
The conversation swings to past experiences "on the door", a long ago trip to Clare and Miss Autumn Leaves. Fortunately we are ratcheting up the wine, a solid Cote Du Rhone Domaine des Genestas GSM is poured without fuss into waiting glasses. Arthur orders another Coke.
Redolent of a magicians trick, a saucepan is plonked on the table in front of us, and a deft hand lifts the lid, a mushroom cloud of steam rises, and voila!, a pot eau feu with Inman Valley Chicken, chic peas, fennel, fresh peas, carrot and a broth that tastes exactly like what those clever little food scientists have tried for years to imitate unsuccessfully with stock cubes. And floating on top, one great decadent dollop of tarragon aioli.
There always has to be a let-down. This was all going too well, and it came in the form of a Halifax 2008 shiraz, which was, frankly, tannic, overblown and mildly caustic to the throat. I can't whinge, because I downed it anyway. I probably would have dropped the bottle if they had have left it on the table.
The grande finale was a masterpiece. Slow cooked Beef Brisket, gelatinous, melt in the mouth wonderful wonderful meat topped with celeriac, kohlrabi and horseradish. I should have held back on the Halifax until the meat arrived, because they would have agreed with each other. Must have been the excitement of being at Fino.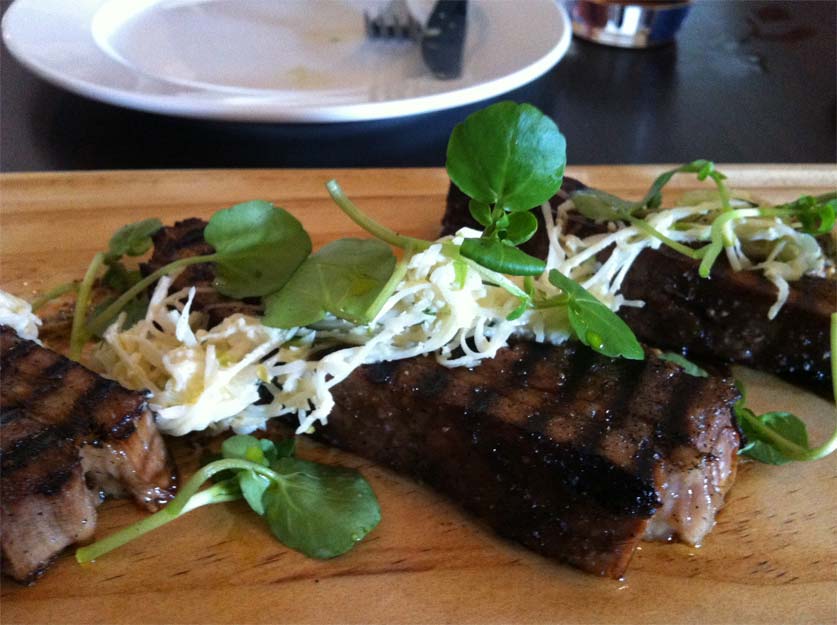 Half an hour later we floated out of Fino into the clear late afternoon light  and drove through the autumnal vineyards in a warm haze that was more about the food than the wine. And one thought has since occurred to me that confirms Fino is a truly great restaurant. David Swain had taken the weekend off – he wasn't even there!