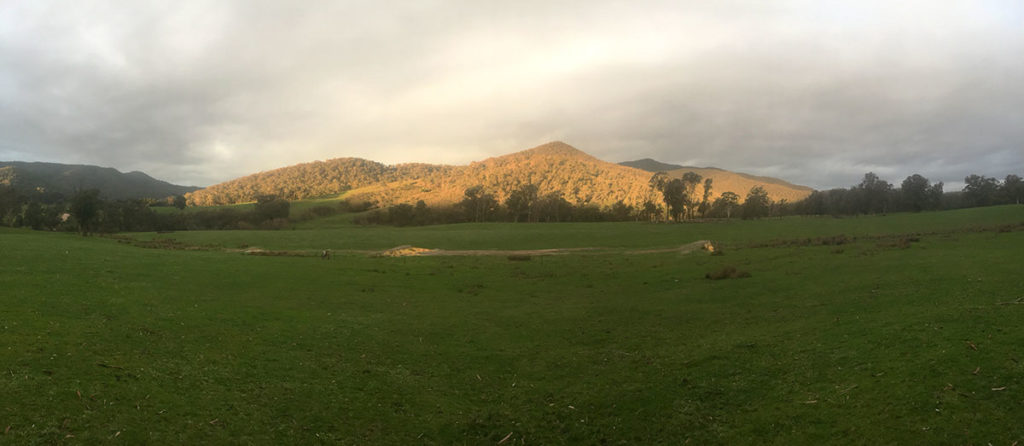 It was a cool autumn morning on Marlu, the mist sieving through the trees, and the sky is dark and bruised. Perfect morning for a brisk walk with my dog "Scout".
As I crossed the paddock I noticed a hind and her yearling quietly grazing beside a fence that borders Marlu from the forest. Sambar Deer are a very large deer. A mature stag can stand 130cm at the shoulder and weigh up to 230kg. The hinds are smaller in size and stand up to 110cm and weigh up to 180kg. They are dark brown with course hair and ginger light brown undercarriage. Originally imported from Malaysia, India and Sri Lanka they have become a subject of great controversy given their massive numbers and environmental damage. But they are great eating!
Sambar are very cautious creatures, with a keen sense of hearing and smell, their two greatest defence mechanisms. The hind heard me and within a split second had cleared the fence and disappeared into the forest. The yearling ran backwards and forwards along the fence and not looking where it was going ran straight into a tree and dropped down dead.
Scout and I were astonished, that was not the kind of thing that happens every day. Never one to miss an opportunity, I went for the tractor.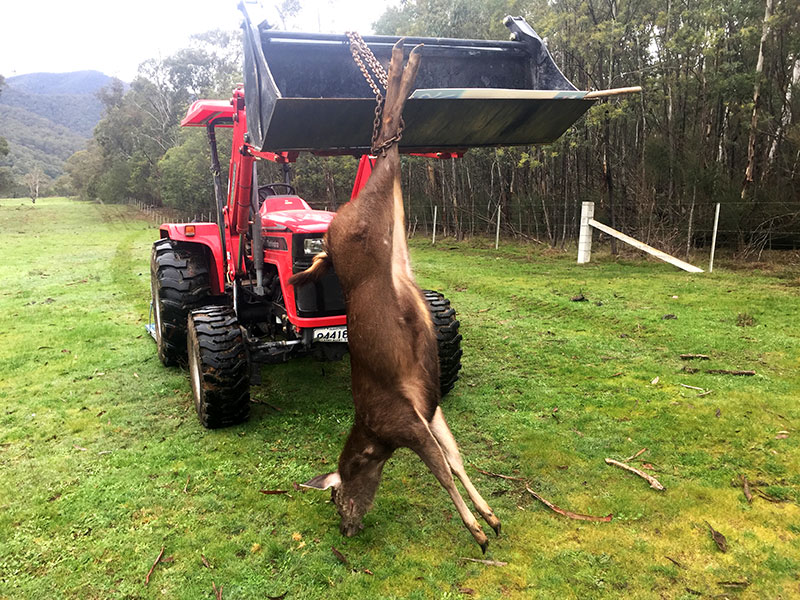 Sambar need to be bled, so I strung the poor beast up in a tree and left it overnight.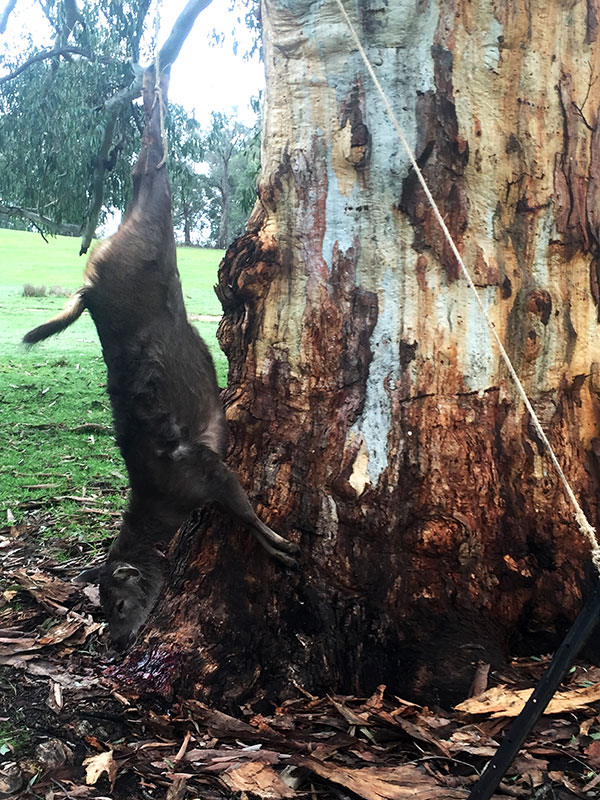 The following day my friend Ian came round to do the butchering, far more experienced than me, I would have made a botch of it. He cut the backstraps out and the legs. These I hung in the shed for a week under hessian.
A week later we reconvened to finish the butchering. Ian dressed the leg as shown below.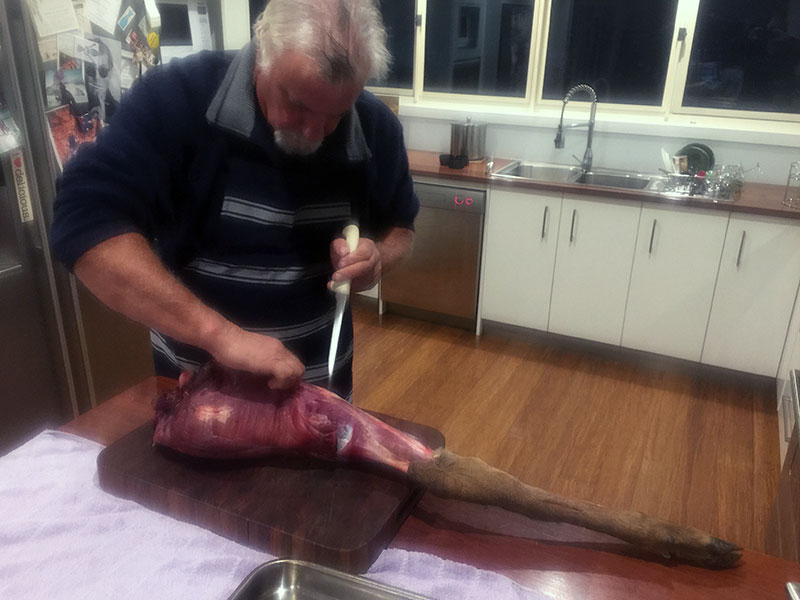 I cut the backstraps into schnitzel fillets, beat them flat, crumbed them in panko and froze them. The schnitzels were absolutely delicious, pink/white flesh, delightful sweet flavour. I served them with cooked cabbage with caraway. It was the gift that kept giving, for months we dined on delicious venison at least once a week.

Print Recipe
Crumbed Venison Schnitzel with Caraway Cabbage
Delicious wild game schnitzel. The perfect winter comfort food!
Ingredients
2

200g

Venison fillets

1

free range egg beaten

1

cup

Panko breadcrumbs

1

tsp

sweet paprika

2

tbsp

cold water

1/4

cup

unbleached plain white flour

1/2

tsp

maldon or kosher salt

1/2

tsp

cracked black pepper

1/2

savoy cabbage shredded

2

cloves

garlic crushed

1

small brown onion diced

1

tsp

caraway seeds

1/4

cup

water or stock

1

tsp

cracked black pepper

1

tsp

maldon or kosher salt

1

tbsp

cider vinegar

1

cup

olive or grapeseed oil

1

knob

butter
Instructions
Place seasoned flour in a bowl, beaten egg in another bowl and panko tossed with paprika in another bowl

Coat venison with flour, then egg then pat with panko thickly all over and rest in refrigerator covered for up to 2 hours.

Meanwhile heat 2 tablespoons of oil in heavy saucepan and fry onion and garlic for 4-5 minutes until slightly browned.

Add cabbage and stir until combined. Add caraway and stir. Put lid on and turn heat down to simmer for 15 minutes stirring frequently. Season to taste.

Heat remaining oil and butter in fry pan until 190c-375f

Shallow fry venison until crumb is golden. Turn and fry other side. Be careful not to overcook, you want it golden not brown.

Place cooked venison on paper towel to drain

To serve place venison on plate and spoon cabbage beside. Yum!